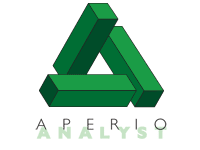 Analyst
Technical guide to Analyst:
Analyst is designed to run on Microsoft Windows 2000, XP or Vista.
Analyst requires approximately 14MB of disk space, and at least 512MB of RAM.
Analyst is installed by running the setup program provided. Please note that administrative access rights will be required.
Once installed, Analyst can be run immediately, with access to certain basic functions such as loading and saving models. However, in order to access full functionality (including Reports, DCF and Valuations) you must sign-in with a user name and password.
Registration
To obtain a user name and password, an account must be registered. This can be completed via the registration page.
Once registered, an email will be sent with a user name and password. The user name will be the email address used to register, and the password will be randomly generated. The email will be sent from admin@aperioltd.com, so please ensure your anti-spam software can accept emails from this address.
Signing In
Sign-in can be performed by clicking the "Sign-In" button at the top right of the screen. Analyst will then remain signed-in until the application is closed down.
To save repeatedly retyping an account name and password on every sign-in, the "Remember Me" option can be checked in the sign-in window.
Networking
To make Analyst available to multiple users across a network, the software can be installed on a shared network drive. All system settings (such as currency conversions and system defaults) are then shared for all users. However, user sign-in details are still stored locally on each workstation in addition to user preferences and most recent files.
Security
The installation consists of a digitally signed setup file. You can trust that the initial download and any subsequent updates are 100% secure. Downloads and updates can be managed centrally and then distributed to your users securely, according to your existing company policy. Developer executables are also digitally signed.
Signing in to the software will require an internet connection. Once signed-in, the software will require constant internet access to remain active.
Firewalls may need to be configured to allow access to https://www.aperioltd.com
Analyst can read PISCES 1.4, 1.5 and 1.6.1.